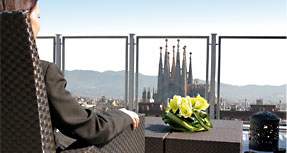 Barcelona offers a wide range of top-quality hotels. There are hotels with their own individual style that provide a whole host of services and where you'll feel right at home.
This section lists all the city's hotels and hotel chains. The search button will help you find the type of accommodation you're looking for, quickly and easily.

The city is home to a number of Spanish and international hotel chains that offer a great many hotels and guest rooms.
Contact with the Promotion and sales Dept.
Tel:
Fax:
Mail: