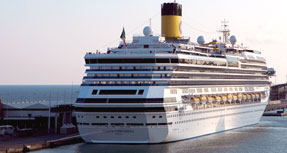 Barcelona is Europe's leading cruise harbour and the fourth most important cruise harbour in the world. It has seven cruise terminals that can accommodate up to ten ships at the same time. A great many cruise companies have picked Barcelona as their main port of call in the western Mediterranean. In 2017, 778 cruise liners berthed here, bringing 2.712.247 passengers, most of whom chose Barcelona as the place where they start or end their cruise.
Adresses of interest
Port de Barcelona

World Trade Center Barcelona
Moll de Barcelona, Edifici Est, planta 3ª
08039 Barcelona
Tel. 933 068 800 |
www.portdebarcelona.cat
| sau@portdebarcelona.cat
Creuers del Port de Barcelona S.A.

Terminal Marítima Nord - Moll de Barcelona, s/n
08039 Barcelona
Tel. 934 127 914 | cpb@creuers.net
Barcelona Cruise Terminal S.L. (Palacruceros)

Moll Adossat 1D, Terminal D - Port de Barcelona
08039 Barcelona
Tel: 932 256 298 |
www.costacruceros.es
Parking vehicles for cruise ship passengers
According to the port security standards, no long-term parking is permitted in the cruise ship docking area. Private vehicles may access this area for the necessary period of time in order to load and unload passengers and luggage.

Other suggested car parks:

World Trade Center Barcelona
Moll de Barcelona
Tel. 935 088 062
aparcament@wtcbarcelona.es

BSM. Parc de Recerca Biomèdica
C. Aiguader, 88
BSM. Litoral Port
Av. Litoral, 34
comercial@bsmsa.cat

Aparca & Go
Estació de Sants. Melcior de Palau, 137
08014 Barcelona
Tel. 931 221 318
sants@aparcandgo.com
It is advisable to make reservations with a minimum of 72 hours in advance. Free transfer from parking area to terminal and from terminal to parking area, with shuttle buses running to a set timetable.
Contact with the Promotion and sales Dept.
Tel:
Fax:
Mail: